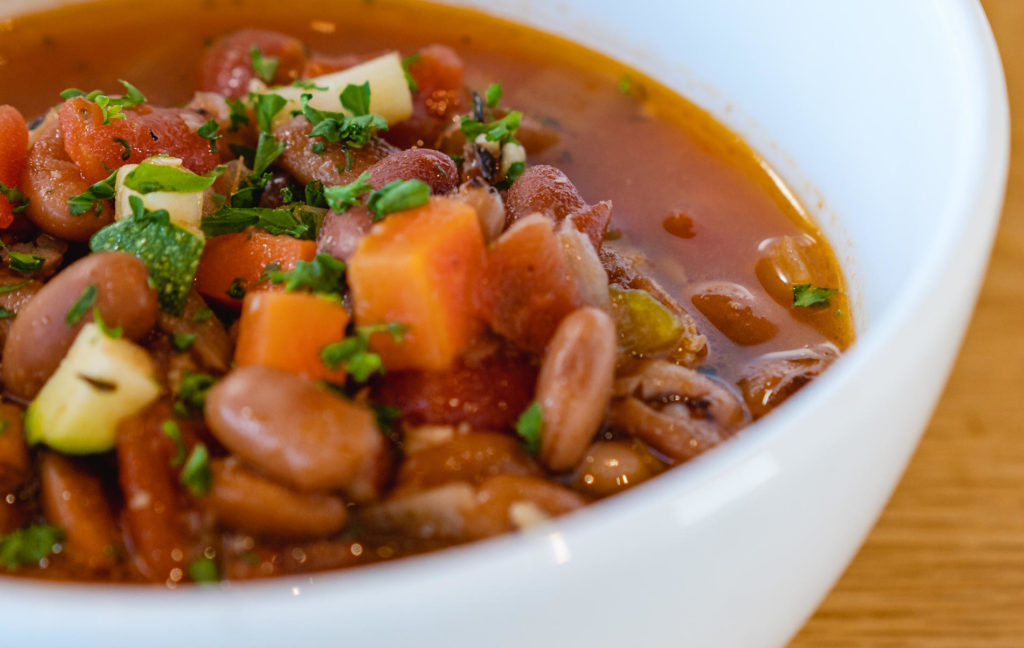 Get ready to load up on beans, beans and beans with this traditional favorite. Michigan Bean Soup is packed with protein, fresh produce and the perfect medley of garden herbs. And when you cover your pot and let it simmer, your kitchen will smell delicious, too.
2.5 hours
12 Servings
Ingredients
½ cup dried red kidney beans
½ cup dried black beans
⅓ cup dried navy beans
½ cup dried pinto beans
5 ½ cups water (for soaking beans)
1 tbsp oil (olive, canola, vegetable, etc)
¾ cup diced yellow onions
1 tbsp minced garlic (or garlic powder)
1 cup diced carrots
1 ⅓ cup celery
1 tsp rosemary, dried
1 tsp thyme, dried
3 cups crushed tomatoes, canned
1 tsp ground black pepper
1 tsp granulated sugar
2 tbsp vegetable broth
PREPARATION
Place all the beans in a large pot and cover generously with water. Bring to a boil for two minutes. Turn off the heat and let stand for one hour. Drain and rinse.

In a separate pot using the oil, saute the onions until transparent. Add the other vegetables and dried herbs and continue sauteing for 5 minutes.

Combine the sauteed vegetables with the beans, cover with more water and simmer for 90 minutes or until the beans are tender.

Add the tomatoes, pepper, broth, and sugar. Adjust amount to taste.

Cook to minimum temperature of 135 F.